Zum Inhalt
Speaking of interdisciplinary influences on education, the study of human psychology - probing into cognition, motivation, behavior and performance - has become a key pillar in that area. From management to performance and social engagement, satisfaction of institutional objectives requires effective analysis of both individual and institutional psychology.
A good amount of research is therefore focused on how psychological theory and research can be integrated into educational academics and management practice; it feels that with more evolved tools and access to ever-growing information databases, educators will have the power to substantially improve both the practice of education and the welfare of society.
Chapters are based on a premise that there are many initiatives in dealing with challenges of society. The most interesting aspects of societal challenges in the book are, among others:
How the outcomes of non-formal education, mainly targeting the potential and actual development of youth quantitatively effect municipalities in Romania.
Services like health care and social services as well as public services like housing are invited to improve their conditions to support elder people to remain independent as long as possible. Decision makers see themselves confronted with the task to make the environment more age-friendly.
The organizational causes of stress, organisational interventions of stress management at the primary, secondary and tertiary level, critically evaluates the last stage of stress – burnout and makes recommendations for practice in dealing with stress at the workplace in Slovenian commercial banks.
Investigation on the differences in social acceptance and perceived peer and teacher support between students with and without special needs.
A review of the approaches, models and empirical findings that aimed to explain the role of non-cognitive characteristics in the performance of high ability students.
A survey on the quality of records and differences in individualized education plans between inclusive elementary and upper secondary schools in Slovenia.
Competence and response to changes in the environment are key entities of modern education systems of lifelong learning. Also in the field of development of statistical literacy of different generations.
An overview of Slovenian research on youth violence since 1991.
A research on specific socio-demographic characteristics and health status of an older person and elder abuse and neglect in institutional settings.
Etiological and phenomenological characteristics of adolescents with emotional and behavioral disorders, placed in residential home.
A correlation between the roles of bully and a victim and a correlation between individual types of bullying on the bully and victim scales in primary schools.
How mental toughness can provide to the coach and coachee a framework for their development and performance.
Cooperation between parents of students with special educational needs and the school staff is one of the greatest challenges regarding the successful education of students with special educational needs in Slovenia and elsewhere.
Ihr Werk im Verlag Dr. Kovač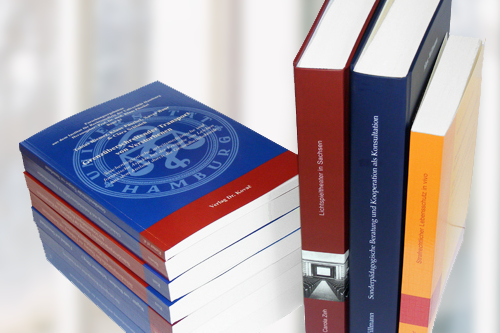 Möchten Sie Ihre wissenschaftliche Arbeit publizieren? Erfahren Sie mehr über unsere günstigen Konditionen und unseren Service für Autorinnen und Autoren.
Weitere Bücher der Autorin
---
---
---
---