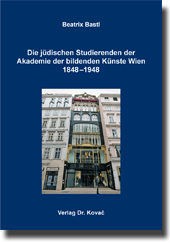 Beatrix Bastl
Die jüdischen Studierenden der Akademie der bildenden Künste Wien 1848–1948
Akademie der Bildenen Künste, Geschichte, Judentum, Jüdische Geschichte, Kulturgeschichte, Kunstgeschichte, Provenienzforschung, Wien
about this book
deutsch | english
The Academy of Fine Arts Vienna received a great number of Jewish students within the period of 1848 and 1948. Till now we did not know their exact number but yet these figures could be raised and a sample of about 500 students with Jewish confession or stemming from a Jewish family was installed.
Some of these artists or rather future artists were known, some were unknown. The first women who started studying at the academy were received and trained up to 1920 and therefore are nearly unrealized. From 1938 onwards Jewish students were out of question and repulsed. For these reasons many students had to leave the academy quickly without having been trained and the possibility to complete their studies with a degree. Those Jewish students who could graduate before World War 1 had the opportunity and chance for great careers like the architects Carl König, Wilhelm Stiassny, Max Fleischer or Jakob Gartner.
But those students or rather graduates who left the academy after World War 1 went to France like the painters Walter Bondy, Emil Krauss or Joseph Floch in order to seek for their artistic development and to lead a life of concentration on arts. Even these generations of artists were driven into emigration and death. Those women who were picked up from 1920 at the academy suffered the same tragic fate in the way of escape, deportation and assassination like the architects and painters Marya Lilien and Susanne Bánki.
If one compares the different studies at the academy then one finds out that the academy produced mostly painters and architects followed by sculptors and graduates from the very late installed department for restoration. Many students who were picked up by the academy and then forced to leave the house for other reasons were forgotten because little to less information was to be received nowadays.
World War 2 created a big human loss within the representatives of art, culture and science. A loss which could not be compensated besides the endless sorrow people had had to endure. This book cannot remember all artists because there are too many unknown components but it can make visible the traces of past learning, teaching and extinct artistic lives.
Kontakt
Informationen über das Veröffentlichen wissenschaftlicher Arbeiten.