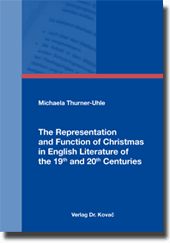 Michaela Thurner-Uhle
The Representation and Function of Christmas in English Literature of the 19th and 20th Centuries
Zum Inhalt
Christmas is the most popular annual holiday in the Western world. Its popularity is reflected in English literature by the continual publication of Christmas poems, stories and carols, both old and new, as well as scholarly works on its cultural history and its social and psychological aspects. Considering this "Christmas boom", the neglect of Christmas in literary studies is quite striking. Scholarly attention has repeatedly been turned to Charles Dickenss works on Christmas and a few well-known Christmas poems. However, there are many other poems as well as numerous Christmas scenes in novels and plays that have never been in the focus of in-depth analyses, nor has an extensive comparative approach to them been attempted. This is the more astonishing as highly acknowledged and popular authors like Jane Austen, George Eliot, Thomas Hardy, W. H. Auden, T. S. Eliot, Virginia Woolf, Malcolm Bradbury or Caryl Churchill – to mention only a few – have made use of the motif of Christmas in their poems, novels and plays.
This study aims at providing a broad exploration of the representation and function of Christmas in works of various literary genres and by different English authors of the 19th and 20th centuries. With Christmas being a multi-faceted phenomenon, it is indispensable to first examine its religious context and its cultural history as well as different contemporary voices of cultural criticism. Based on this background the study analyses representative lyrical, narrative and dramatic works. As it is to be expected, quite a number of the works show a traditional, confirmative representation of Christmas. But from the 19th century onwards Christmas has also been used in remarkably innovative ways, attributing new, desacralised meanings and functions to it. As a foil for an analysis of the time, Christmas serves to formulate most different attitudes like religious scepticism, social and moral criticism or propagandist ideas. In a large number of novels and plays Christmas is given another unorthodox role, when it functions as a touchstone in the search for insight or the discovery of truth.
Besides a thorough analysis of the individual literary works this book provides conclusions for the general tendencies of the representation and function of Christmas. It is hoped that it thus reveals the amazing potential and abundant variety of the motif of Christmas in English literature.
Ihr Werk im Verlag Dr. Kovač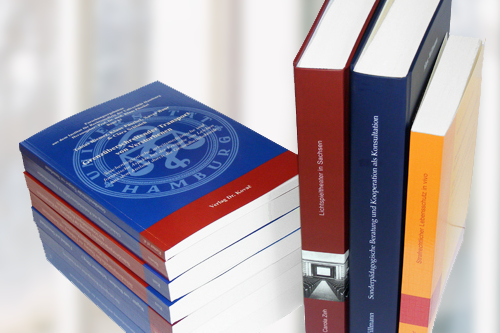 Möchten Sie Ihre wissenschaftliche Arbeit publizieren? Erfahren Sie mehr über unsere günstigen Konditionen und unseren Service für Autorinnen und Autoren.
Nach oben ▲