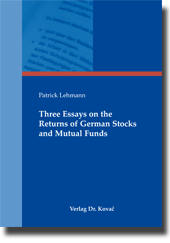 Patrick Lehmann
Three Essays on the Returns of German Stocks and Mutual Funds
- in englischer Sprache -
Finanzmanagement, Band 99
Hamburg 2013, 276 Seiten
ISBN 978-3-8300-7255-3 (Print), ISBN 978-3-339-07255-9 (eBook)
Active Fund Management, Book-to-Market-Effect, Capital Asset Pricing Model, Financial Intermediation, German Capital Market, Investment Companies, Multi Factor Models, Mutual Fund Industry, Performance Analysis, Returns, Sharpe Ratio, Size Effect, Stock Characteristics, Value Effect
about this book
deutsch | english

The book focuses on two central issues in the area of empirical asset pricing, especially in the German context. On the one hand, with the question whether it is advantageous to invest in German stock mutual funds, and on the other hand, whether the Capital Asset Pricing Model is able to explain the returns of German stocks. The results of the research projects are of great importance for long-term investors, in particular for old-age provision considerations, finance managers, regulation authorities, the legislator and the administration of justice.
about the author
The author held a teaching and research position at the Chair of Banking and Asset Markets at Humboldt-University Berlin from 2006 to 2012.



Informationen über das Veröffentlichen wissenschaftlicher Arbeiten.