Maria Brenda (ed.)
Linguistics Across Culture 4
Zum Inhalt
Linguistics Across Culture 4 is a collection of papers which adopt cognitive and pragmatic perspectives on Indo-European and Non-Indo-European languages. The volume presents new discoveries and important analytical work exploring various linguistic phenomena in a range of contexts.
An insightful review by Sabine Asmus of the book Colour, Culture and Language – Blue in Polish by Danuta Stanulewicz opens the volume. The reviewer contributes a minority language point of view to the discussion as the Celtic colour term 'glas' is offered for comparison. Maria Brenda and Katarzyna Rudkiewicz seek to address a frequently overlooked issue of the semantics of function words from a cognitive perspective. Maria Brenda investigates how different prepositions invite different conceptualisations related to the concept of PLACE, while Katarzyna Rudkiewicz applies Langacker's methodology to explore the structure of the category around. Adriana Goldman approaches the concept of TERRORIST, frequently referred to nowadays, from cognitive and ethnolinguistic standpoints. Using Urban Dictionary allows the researcher to look into the minds of language users and to capture ongoing semantic changes that might with time be accepted by the wider English language community. Olga Molchanova's contribution focuses on place names in the Altai territory. Specifically, the lexeme kem meaning 'river' is scrutinised; the author offers an extensive survey of hydronyms containing the lexeme and valuable motivations behind them. Kamila Nakonieczna-Pyrczak applies the conceptual metaphor theory to explain metaphorical expressions related to the concept of HAND in the Bible. Except for a generally accepted approach employing the theory of the ontological metaphor for the explanation of body-part expressions, the paper suggests the application of orientational metaphor theory to the items in question. Monika Skorasinska discusses the semantic structure of the concept DARKNESS from a diachronic perspective. A scrupulous analysis of dictionary meanings of the lexeme darkness, its synonyms and antonyms as well as a comprehensive review of metaphorical expressions allows the author to draw conclusions about the nature of the prototype of the lexeme, its more peripheral senses and its relation to other semantic fields. Malgorzata Sokl discusses the genre of academic weblogs in her well-research paper on modern-media based communication. The study investigating Polish academic blogs adopts a discourse-based approach to analysing modality choices as strategies for negotiating speaker's identities in text. Finally, Oksana Kondratieva and Alina Szwajczuk study the translation theory and practice discussing the concept of equivalence and the terminology of educational institutions respectively. The former paper aims at describing different types of equivalence, while the latter offers a comprehensive collection of Polish and English proper names of educational institutions.
Ihr Werk im Verlag Dr. Kovač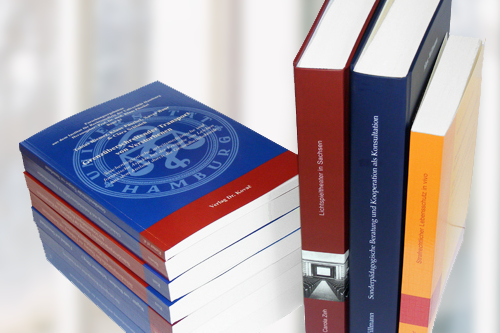 Möchten Sie Ihre wissenschaftliche Arbeit publizieren? Erfahren Sie mehr über unsere günstigen Konditionen und unseren Service für Autorinnen und Autoren.
Nach oben ▲