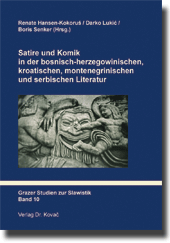 Renate Hansen-Kokoruš / Darko Lukić / Boris Senker (Hrsg.)
Satire und Komik in der bosnisch-herzegowinischen, kroatischen, montenegrinischen und serbischen Literatur
19. Jahrhundert, 19th Century, 20. Jahrhundert, 20th century, Ältere Literatur, Bosnian Literature, Bosnien-Herzegowina, Bosnische Literatur, Croatian Literature, Humor, Komik, Kroatien, Kroatische Literatur, Literaturwissenschaft, Montenegrinische Literatur, Montenegrin Literatur, Montenegro, Mündliche Literatur, Older Literautre, Oral Literature, Satire, Serbian Literature, Serbien, Serbische Literatur, Socialism, Sozialismus, Theater, Theaterwissenschaft, Theatre, Transition
about this book
deutsch | english
Satire is one of the most popular forms of literature to get involved in societal aspects, to act and react. It combines poetical characteristics with a critical relationship to phenomena of reality – both on an individual and societal level. Even if there are broad and widely recognized theoretical works and analyses of the topic of satire, some assumptions from this field – the aesthetic attributes, the role of the fantastic, the implicated impacts of humor and satire – bring up new discussions. Against the backdrop of negative developments in recent societies, satire and humor seem to have gained a new height. Especially in transitional post-Yugoslav countries, this manner of literary expression correlates to the stagnation of democratic structures and increases in popularity. But the fondness for comical alienation, black humor and ways of reading between the lines provided very good preconditions for satire, which readers were used to during, but also before, socialism.
This book collects contributions from an international conference dedicated to the topic of satire and humor in Bosnian, Croatian, Montenegrin and Serbian literature which took place in September 2017 at the Department of Slavic Studies at the University of Graz. It presents seventeen peer reviewed articles who analyze critical satirical and humorous aspects of the above-mentioned literatures in a national and transnational context over a long period of time, from older oral traditions and Renaissance through the 19th and 20th century up to the newest literature. The publication thus adds to fill a research gap. It contents six sections of mixed aspects of literary history and topics: older literature, satirical renewal of the old, satirical presentation of love, the presentation of World War II, satire in socialism and transition in the contemporary literature. Aspects of drama and dramatization are represented very prominently because no other genre of literature interacts so directly with the audience and is immediately discussed in the media.
Informationen über das Veröffentlichen wissenschaftlicher Arbeiten.