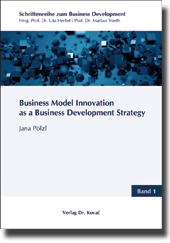 Jana Pölzl
Business Model Innovation as a Business Development Strategy
- in englischer Sprache -
Business Development, Business Model, Business Model Innovation, Business Strategy, Corporate Development, Erfolgsfaktoren, Erfolg von Geschäftsmodellinnovationen, Geschäftsfeldentwicklung, Geschäftsmodellinnovation, Innovation, Strategie, Success Faktors of Business Model Innovation, Unternehmensstrategie
about this book
deutsch | english
Against the background of a changing market environment including economic, technological and social trends firms are increasingly urged to find new ways of growing their core business. Many firms have already reacted to the urge of finding new growth opportunities by establishing business development units and pursuing business model innovation. Business development and business model innovation are rather new phenomena in firms and management research alike. Despite the relevance of these topics for firms, to date only a few researchers have addressed them. Thus, only little is known about what business development in general and business model innovation as a business development strategy comprise and what drives their success. The overarching research objective of the present dissertation is to answer the following research questions: 1) How can businesses grow through business development and 2) What factors determine successful growth based on business model innovation? These questions are answered by four individual studies.
Study 1 deals with business development in general and deepens scientific knowledge on different aspects of business development, i.e. understanding, activities, organization, capabilities of business developers, applied instruments and challenges as well as future relevance of business development in German companies. Study 2 examines drivers of business model innovation, the business model innovation process and success factors of business model innovation management using in-depth field interviews with experts on business model innovation from different industries. Study 3 builds upon the results of study 2 and analyzes success factors of business model innovation using fuzzy set qualitative comparative analysis (fsQCA). In study 4 factors impeding business model innovation success are analyzed by taking the example of car-sharing, a business model innovation enabled through the emerging social trend called sharing economy. In conclusion, the present dissertation offers numerous findings on the question how can firms successfully change and grow their business by enhancing knowledge on business development in general and in particular business model innovation as one possible business development strategy. In addition, this dissertation offers implications for managers and scholars interested in business development and business model innovation and gives an outlook for future research based on the findings and limitations.
Informationen über das Veröffentlichen wissenschaftlicher Arbeiten.