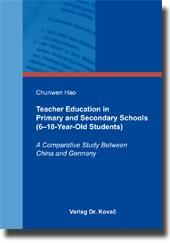 Chunwen Hao
Teacher Education in Primary and Secondary Schools (6–18-Year-Old Students)
A Comparative Study Between China and Germany
- in englischer Sprache -
Zum Inhalt
Although the physical distance between China and Germany is large, the continual strengthening of ties between the two countries as well as widespread use of modern technology has allowed the two countries to not only cooperate in a political, economical, and cultural sense, but also educationally.
Both China and Germany attach great importance to improving the quality of education and training given to their teachers within the education reform. Both countries also regard the teacher's role in educational activities as very important and both countries have adopted active and valid measures to improve the effects of teacher education to guarantee the teacher's teaching ability. Therefore, through comparing the two countries' teacher education, including the pre-service teacher education, teachers' induction education, in-service teacher education, one can look at the similar and different aspects of teacher education between two countries. From this, we can better understand and learn the merits of each other to improve teacher education for both countries and to promote the educational ties and cooperation.
First of all, the author presents the basic and essential information about the teacher education in both countries, and states the necessary concepts' definition and correlative theoretical foundation.
In addition, through the detailed description and comparison, including situations, institutions, aims, and modes of the teachers' pre-service education, induction education and in-service education of the two countries, the author explores the differences and similarities of teacher education between both countries. Through the comparison and analysis of the educational management measures between the two countries, the author finds the advantages of these measures to improve the teachers' quality and quantity. These measures include the admissions system, appointment system, treatment system, assessment system and so on.
Finally, based on the comparison, the author points out the insufficiencies of teacher education in both countries, and correspondingly gives some suggestions for improving teachers' quality and quantity to fit the higher requirements of primary and secondary school education.
Ihr Werk im Verlag Dr. Kovač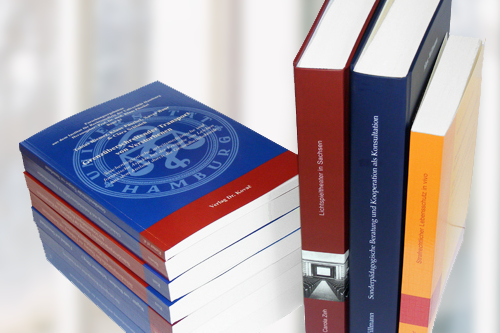 Möchten Sie Ihre wissenschaftliche Arbeit publizieren? Erfahren Sie mehr über unsere günstigen Konditionen und unseren Service für Autorinnen und Autoren.
Nach oben ▲