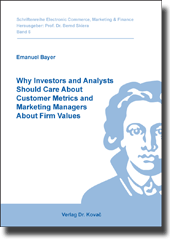 Emanuel Bayer
Why Investors and Analysts Should Care About Customer Metrics and Marketing Managers About Firm Values
– in englischer Sprache –
about this book
deutsch
english
Investors and analysts on the one hand and marketing managers on the other hand are facing tough times — and, at first glance, the two groups seem to be dealing with disparate challenges. Investors and analysts have been targets of harsh public criticism since the global financial crisis of 2007–2008. In particular, commissions appointed by the United States government have concluded that the crisis was caused by unethical behavior of Wall Street investors and analysts, who prioritized short-term profits over long-term value creation and incorrectly priced risk. Yet ethical breaches might not have been the sole cause of the market collapse: A 2008 G-20 summit came to the conclusion that investors and analysts face real valuation difficulties, owing to a lack of transparency and accountability. The financial crisis made it painfully clear that investors and analysts have a substantial influence on the global economy. Marketing managers, in contrast, are finding it increasingly difficult to prove their own worth, that is, to unambiguously show their contributions to firms' financial value. This difficulty can be attributed to the fact that marketing managers focus primarily on building a firm's intangible assets, which are reflected in customer metrics, but are not ultimately captured on the balance sheet. Failure to provide proof of the value of marketing activities has led to a weak position of marketing managers when it comes to budget negotiations, a decrease of marketing managers in executive boards, and an ongoing deterioration in the influence that marketing departments hold in their respective firms. This book argues that a shift in the focus of the two groups towards key metrics of the respective other group could form a basis for the development of solutions to the described problems. In particular, a focus on customer metrics, typical carriers of information about a firm's long-term prospects, would enable investors and analysts to better determine firms' long-term values. Marketing managers, on the other hand, should focus more on the implications of their activities for the firm's financial value and optimize accordingly.
Ihr Werk im Verlag Dr. Kovač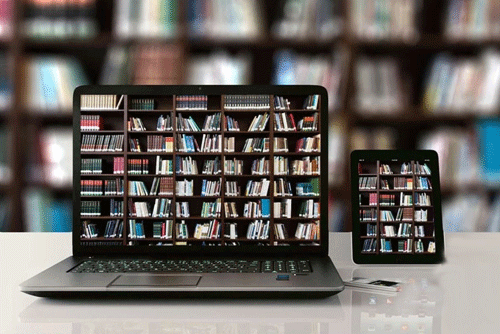 Möchten Sie Ihre wissenschaftliche Arbeit publizieren? Erfahren Sie mehr über unsere günstigen Konditionen und unseren Service für Autorinnen und Autoren.
Nach oben ▲