Hans Rüdiger Kaufmann (Hrsg.)
International Customer Behaviour and Retailing Research
2nd CIRCLE Conference Proceedings
Zum Inhalt
New trends in consumer behaviour triggered by international macro-environmental changes are indispensable sources for internationalisation strategies of global, multinational and small and medium sized enterprises (SMEs). Young researchers formed an international network and presented their findings on a variety of topics and industries on the 2nd CIRCLE conference hosted by the Institute of Entrepreneurship of the University of Applied Sciences Liechtenstein.
Social developments suggest innovative roles in retailing as one of the most dynamic industries. This refers to providing cognitive, affective and conative support for consumers in their endeavour to manage their personal and social environments. A further societal marketing related aspect addresses the correlation between cause related marketing and brand equity. In this context, a philosophical and ethical perspective discusses the general principles of the consumers' motivation and its implications for marketing. These views might also have a bearing on consumer behaviour of the youth segment in the alcoholic product market or on irrational student consumer behaviour leading to increasing levels of indebtedness. The technological environment influences consumer behaviour reflected, for example, by new e-marketing approaches to create brand loyalty or by a conceptualisation to improve technology transfer from higher education providers to industry.
The wave of globalisation entails changes in the international political, legal and cultural environment. This results in newly emerging patterns of consumer behaviour in transition and developing countries. In particular, store choice and store loyalty in retailing, consumer patronage behaviour in the fast food restaurant industry and a more prominent role of distribution with respect to multi-channel strategies in banking are addressed. Inter- cultural aspects refer to internationalisation strategies of SME retailers with Asian origins in the UK, a comparative study of the UK and Taiwan markets as to retail product branding and its evolution, to the integration of bi-cultural experts or to efficient knowledge management transfer in Eastern/Western European strategic alliances to increase international competitiveness. Based on the meat delicatessen sector one paper suggests consumer behaviour concepts to be extended by considering perceptions on regional foods.
The global competitive environment calls for sustainable relations with consumers. A new framework has been developed to explain causal relations between marketing activities aiming at increasing consumer satisfaction and their actual results. A comparative study in the German speaking retail markets suggests four distinguishable categories of strategic CRM groups implying different degrees of professionalism and success. Key success factors for the relationship development of Swiss private banks with German high net worth individuals are elicited based on retention marketing theory. Linking the micro sociological concept of identity to customer relationship marketing the applicability of multi channel management in Private Banking is tested. Finally, embracing the whole student- alumni life cycle a new consumer satisfaction model for Higher education providers is provided.
Ihr Werk im Verlag Dr. Kovač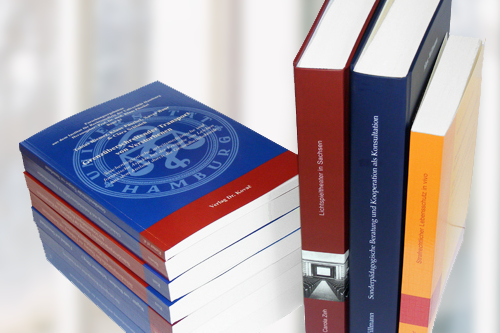 Möchten Sie Ihre wissenschaftliche Arbeit publizieren? Erfahren Sie mehr über unsere günstigen Konditionen und unseren Service für Autorinnen und Autoren.
Nach oben ▲