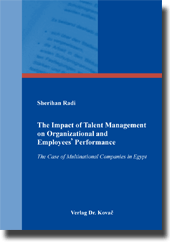 Sherihan Radi
The Impact of Talent Management on Organizational and Employees᾿ Performance
The Case of Multinational Companies in Egypt
Personalwirtschaft, volume 66
Hamburg 2023, 276 pages
ISBN 978-3-339-13432-5 (print)
ISBN 978-3-339-13433-2 (eBook)
about this book deutsch
english
In today's global world, organizations seek to ensure the attraction, development and retention of talented employees. Only through that, organizations would be able to achieve the efficiency they pursue.
Talent management is concerned with the identification, attraction, training and retention of the organizations' talented workforce.
The book investigates the impact of talent management on organizational and employees' performance at multinational companies in Egypt. It also examines the effect of the internal factors that influence talent management practices on these performances in these companies.
So far, there is limited existing research with regard to this study and the topic of multinational companies in Egypt which is understudied.
This five-chapter book fills the research gap by examining the topic of talent management in relation to its impact on both performances at multinational companies in Egypt. It provides support to academicians and scholars to further investigate this subject to contribute additional insight and knowledge in the studied subject.
Additionally, the practical significance of this book lies in the recommendations presented by the author that may be useful for various types of companies. It assists the management in these companies to ensure that talent management practices are properly implemented to achieve organizational success and effectiveness. This will also enable the companies in attracting and retaining top talented employees to improve the overall performance.
For this purpose, the author conducted semi-structured interviews with the total number of twenty-eight supervisors, human resources professionals and employees from various job levels with different experiences and skills working in five of the most famous multinational companies in Egypt.
about the author
Sherihan Radi earned her PhD of Economics from Brandenburg University of Technology Cottbus–Senftenberg in Germany in 2022 and a Master of Business Administration from the University of Toledo, Ohio, United States of America in 2015. Her research interests lie in the areas of human resource management, staff development, human science, social science, economics, gender, gender equality and feminist theory.
Ihr Werk im Verlag Dr. Kovač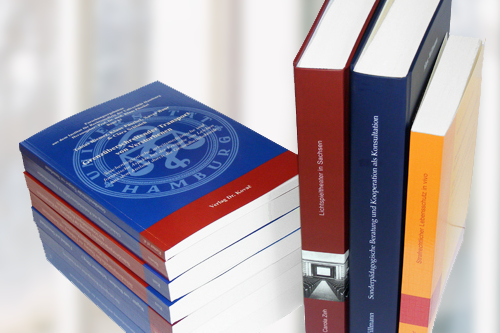 Möchten Sie Ihre wissenschaftliche Arbeit publizieren? Erfahren Sie mehr über unsere günstigen Konditionen und unseren Service für Autorinnen und Autoren.
Nach oben ▲