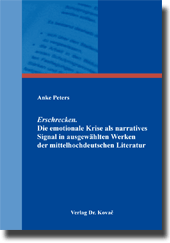 Anke Peters
Erschrecken.
Die emotionale Krise als narratives Signal in ausgewählten Werken der mittelhochdeutschen Literatur
Antikenroman, Der Arme Heinrich, Emotionalisierungsstrategie, Emotive Wende, Eneas, Erschrecken, Erzählsignal, Funktionalisierung von Emotionen, Germanistik, Hartmann von Aue, Heinrich von Veldeke, Heldenepik, Literaturgeschichte, Literaturgeschichte der Emotionen, Mediävistik, Motivgeschichte, multiperspektivischer Ansatz, Nibelungenlied, Textgattung
about this book
deutsch | english
This study joins the discussion about the relevance of emotions for human life and their impact on our actions and decisions. This scientific discourse since the beginning of the millennium can be summarized by the key phrase emotional turn. The study can be categorized as a new contribution to the literary history of emotions. While studies on emotions like anxiety or anger already exist, nobody has focused yet on the startle response, although it is doubtless a very powerful affect. Questions that the study raises are e.g. which role the startle response plays in the narrative process, which trigger situations can be identified and if it is indeed a narrative signal that the narrator uses to direct the reader's perception.
A multi-perspectival reflection of the startle reaction forms the broad theoretical basis, starting the systematic analysis with phenomena of everyday life and winged words up to recent findings from medicine and evolutionary biology. Furthermore, the reader follows the philosophical discourse (with an emphasis on mediaeval theories of emotion) and gains overall a comprehensive insight into human emotions in general as well as regarding the startle response in particular. The study applies these theoretical findings in a second step to the following body of Middle High German literature: Heinrich von Veldeke: Eneas Romance (first courtly romance in a Germanic language), Hartmann von Aue: Poor Heinrich (combining courtly and religious narrative patterns), the Nibelungenlied (anonymous poet, heroic poetry).
The interdisciplinary approach applied provides an interesting research design. The study thus takes a decisive step beyond the philologically proven form of motif history and reveals new structures through its interpretive approach.
Informationen über das Veröffentlichen wissenschaftlicher Arbeiten.